When it comes to fashion accessories, watches have always been a popular choice. A well-designed watch can elevate any outfit and add an air of sophistication to your look. One of the most popular types of watch straps is the plain grain leather watch strap. These straps have been around for decades and continue to be a staple for watch lovers around the world.
In this article, we will take a closer look at plain leather watch straps and why they never go out of style.
What are Plain Grain Leather Watch Straps?
Plain leather watch straps are made from high-quality leather that has been tanned and treated to create a smooth, even surface. The leather is then cut and stitched to fit the shape of the watch face and secured with a buckle or clasp.
One of the main benefits of plain leather watch straps is their durability. Unlike synthetic materials that may crack or peel over time, leather is a natural material that ages gracefully with use. The more you wear your plain grain leather watch strap, the more comfortable it becomes and the more character it develops.
Why Choose Plain Leather Watch Straps?
There are several reasons why plain leather watch straps are a popular choice among watch enthusiasts:
Timeless Style – Plain leather watch straps have a classic, understated style that never goes out of fashion. They can be dressed up or down and look great with a variety of outfits.

Versatility – Plain grain leather watch straps are available in a wide range of colors, from classic brown and black to bold shades like red and blue. This versatility means you can easily switch up your look by simply changing your watch strap.

Comfort – Leather is a soft and flexible material that conforms to your wrist over time, making it one of the most comfortable materials for watch straps.

Durability – High-quality leather is a durable material that can withstand daily wear and tear. With proper care, a plain leather watch strap can last for years.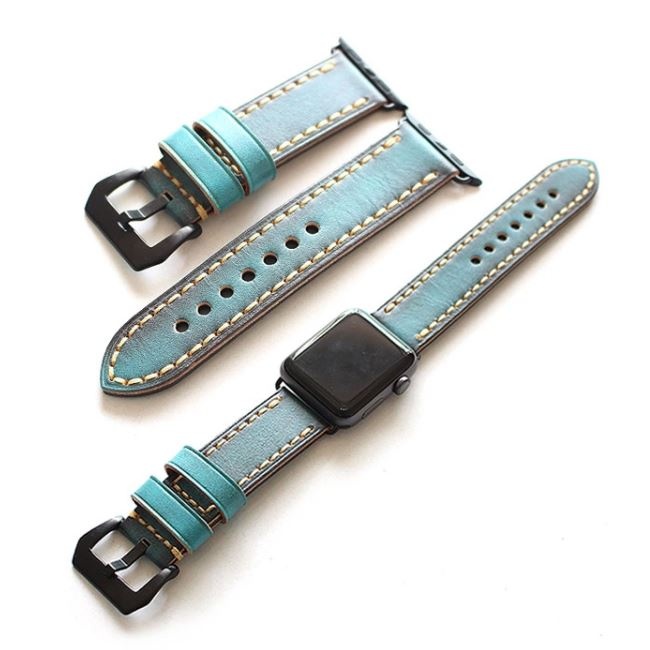 How to Choose the Right Plain Leather Watch Strap
When choosing a plain grain leather watch strap, there are a few factors to consider:
Width – Make sure to choose a strap that is the correct width for your watch face. Most watch straps are either 18mm, 20mm, or 22mm.

Length – The length of the strap will depend on the size of your wrist. Measure your wrist and choose a strap that will fit comfortably.

Color – Choose a color that complements your style and wardrobe. Classic brown and black are always popular choices, but don't be afraid to try something bold like red or blue.

Quality – Look for high-quality leather that is well-crafted and stitched. A good quality plain leather watch strap will last for years with proper care.
How to Care for Your Plain Grain Leather Watch Strap
To ensure your plain leather watch strap stays looking its best, follow these care tips:
Avoid exposure to water and moisture, as this can damage the leather.

Clean your watch strap regularly with a damp cloth and mild soap.

Condition your watch strap with a leather conditioner every few months to keep it soft and supple.

Store your watch strap in a cool, dry place when not in use.
In conclusion, plain leather watch straps are a timeless accessory that never goes out of style. They offer durability, comfort, and versatility, making them a popular choice among watch enthusiasts. When choosing a plain leather watch strap, consider factors like width, length, color, and quality, and follow proper care instructions to keep your strap looking its best for years to come. Whether you prefer a classic brown or black strap, or something more bold and colorful, there is a plain grain leather watch strap out there for everyone.
Related Products